I'm Ash and I've recently taken over from Felicity Singleton to lead our Government as a Platform work in GDS. I'm writing to introduce our new blog and explain the work that's happening across government that's contributing to our vision.
Felicity talked about our vision in her post 'Government as a Platform for the rest of us', back in October. And on 25 November the Chancellor announced a significant investment in digital and in Government as a Platform. So we're forging ahead and we've decided to set up a new blog to talk specifically about the shared components and patterns that are being worked on across government.
The initial set of things that make up Government as a Platform include reusable design patterns, shared code libraries, shared platform components like GOV.UK Verify, GOV.UK Pay and GOV.UK Notify, providing the right access to data and a making it easy to host services. Work is happening across all these areas at the moment and here's what we're up to...
Making design patterns so service managers have templates to work from
Louise Downe has blogged about her work on service design patterns and we're working with:
DEFRA to look at how we make applying for and getting a licence more efficient

BIS to understand how to make applying for a grant for funding more consistent and simple for users
We're also looking at all the little things that you need to make a service easy to use. Things that should be made once and made available to everyone to save time, eg templates for forms and buttons for check boxes. We've started to bring all these things together in GOV.UK elements.
Making platforms to make it easier to build services
GOV.UK Pay - people will be able to pay government in the same way, whatever service they're using, eg making a plea online, sending money to a prisoner, paying a late filing penalty or applying to be a registered traveller entering the UK.
GOV.UK Notify will make it easy to keep people informed when they interact with government. If you need an MOT, to make a Lasting Power of Attorney or to Register to Vote, you'll be able to get updates and reminders by text message, email or letter.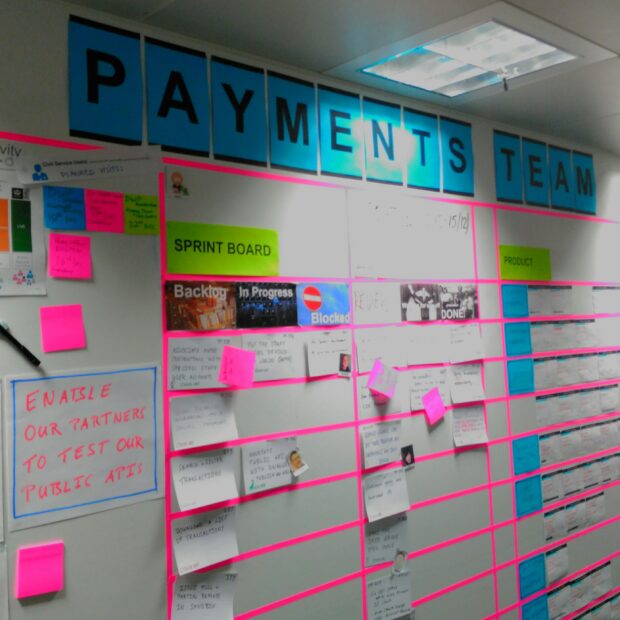 Making government services with data
We're working closely with Paul Maltby and the GDS Data team as they work with Companies House to explore how data and registers can transform government services.
Making it easier to host government services
We're building Government Platform as a Service to host a range of services so teams across government don't have to build their own hosting stack.
Making it easier for civil servants to do their job and improve their skills
The Civil Service Digital team is working with DWP and Civil Service Learning to improve services for civil servants (eg writing performance reviews, booking training courses) so they can focus on delivering services for users.
Finally we should mention the cross government programmes that will help to lead us to a more joined up government. One Government at the Border and Digitising Justice are initiatives that will provide cross government capability, will make use of shared platforms and represent a future way of working for the Civil Service.
So there's a lot happening at the moment! You'll see more posts soon from the teams working on Government as a Platform both in GDS and across government so watch this space.
Follow Ash on Twitter and don't forget to sign up for email alerts.