Let's be honest, many of the tools we use at work to do things like performance reviews, expense claims, and booking courses, are lacking. Common complaints range from difficulty in entering basic information and needing multiple log-ins, to the lack of useful data for managers to base workforce decisions on, for example information about employee diversity.
These tools can frustrate and exasperate. And using them takes up a disproportionate amount of our time, which we could otherwise spend on doing our work. There's been lots of full and frank discussion (and venting) about this.
Meanwhile, in the Civil Service Digital team we've been taking a closer look at the experiences of many civil servants in relation to these tools, and we blogged about our findings, 'Because civil servants are users too'.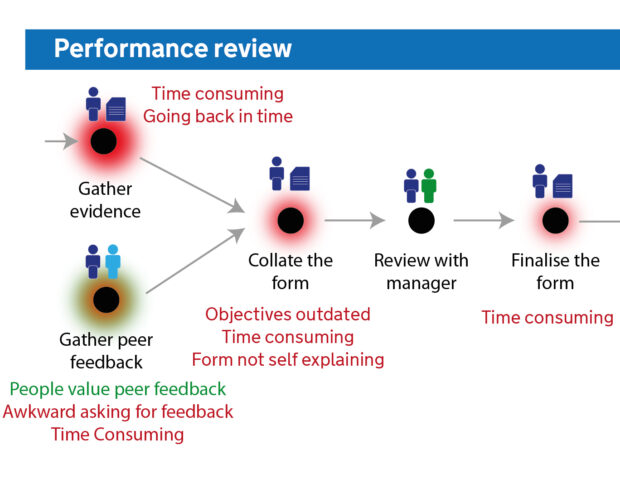 The current tools slow you down
We're in the early stages of building some new tools to get those internally-focussed tasks done in much less time and with greater ease. We don't want to build something once, that stays the same, and then grows old ungracefully.
For the tools we're building to be of any value to you as users, we need your input from the get go and from there on in. And we'll iterate and develop the tools to keep in step with your changing digital habits, roles, and working environments. What you use internally should be light-touch, user-friendly and accessible.
Tell us what you need
As we continue to build and design these tools we need to spend time with lots of civil servants at different stages so that we can:
regularly hear about how you work, and any changes to work processes

sense check our approach with you

watch you test what we've built

hear what you think
The tools we're building won't replace back-office tools, eg the resource management tool 'RM', which is used in many government departments. But we don't use resource management tools for all internal tasks, so don't let that hold you back from telling us what you need. Wouldn't it be nice if, no matter what systems were in place in the background, the user experience at the front end was simple, quick and the same across government.
A lot of work goes into making sure public facing services are user-friendly and well integrated with other systems - now let's make sure we do the same with our internal ones.
Take part and spread the word
You can get involved in helping us design and build useful tools to make your job easier by sending us an email at csdigitalresearch@digital.cabinet-office.gov.uk, and we'll get back to you.
Follow Jen on Twitter and don't forget to sign up for email alerts.