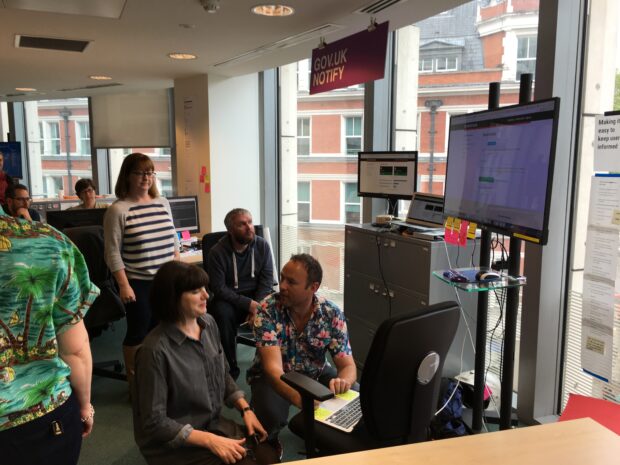 On 18 May at 1:35pm, the Digital Marketplace team gathered with the GOV.UK Notify team, and we all stood staring at a big screen. We uploaded a spreadsheet with 1,044 potential G-Cloud suppliers into GOV.UK Notify and pressed a big green button.
Not the biggest job that GOV.UK Notify will ever do, but an important milestone nonetheless - we'd just sent our first messages to real users.
A couple of months on from that, as part of our private (invite-only) beta, we're now processing messages for passport applications (HM Passport Office) and Lasting Power of Attorney deputy reports (Office of the Public Guardian). And shortly we'll also be sending messages to people applying for student finance and for UK Visas.
An incredibly useful product
GOV.UK Notify, the notifications service for all of government, started as a discovery into a status tracking platform back in August last year. It's now a reality. Over 70 service teams across central government have already contacted us to say they'd like to use GOV.UK Notify to talk to their users. This is a testament to the value and viability of shared components both for the people who receive the messages, and the service teams that use Notify to send them.
It's been great working with so many dedicated digital teams across government – such as the Office of the Public Guardian (OPG) who we partnered with right from the start of the alpha, and whose input has been vital in shaping GOV.UK Notify.
As Jane Fallon, Head of Digital, Office of the Public Guardian says:
Applying for a Lasting Power of Attorney can be a considerably anxious time. It might seem a small thing, but a text message to let you know 'your application has arrived, and we are looking at it', can give real reassurance. We know this from the calls that come into our contact centre daily.

Baby steps, but it's an incredibly useful and powerful product for us. It's early days, and we need to monitor how this goes and keep iterating to make sure we continue meeting the needs of our users
Getting to this point has not been as easy as I (fleetingly) thought it might be. Building what are effectively commodity services for a large number of service teams, brings an interesting set of challenges - not least making something that works for everyone, but feels like it's just for you.
In keeping with the GDS design principles, it's our job to do the hard work to make it simple for our users - the service teams in government. We'll share more about the challenges we face as they come up as well as how we're iterating on user feedback.
Here's a short video that explains how easy GOV.UK Notify is for service teams to use to keep people updated.
You can find out more about GOV.UK Notify, including how your team can get started, at www.gov.uk/notify
Follow Pete on Twitter and don't forget to sign up for email alerts.
GDS is expanding, and we have a number of positions that need to be filled - especially on the Government as a Platform team. So we're always on the lookout for talented people. Have a look at our videos describing how we work, our vacancies page, or drop us a line.