This week we took some time to map out the stages that it takes to be granted a shotgun licence.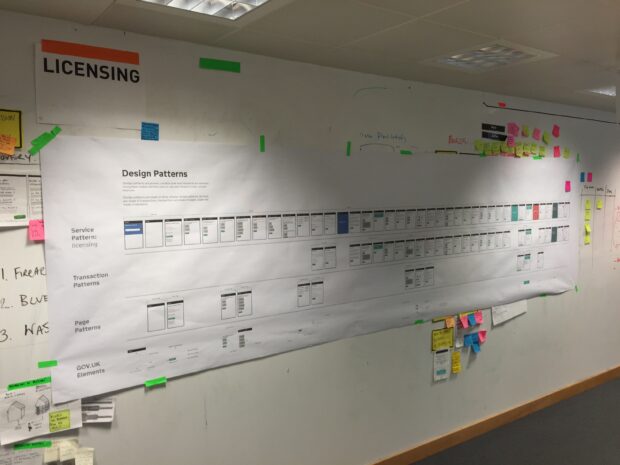 In the UK you need a firearms license to own a gun or shotgun. Only a small proportion of the population have a firearms license. But it's a useful example as part of our work identifying common elements and setting standards within service design.
Mapping out the process
At the moment the process involves a mixture of filling out paper forms, receiving letters and a visit from a police officer. Some of these steps can be digitised, some can't.
We mapped out part of the processes, printed out the diagram on a plotter and stuck it up on the wall. We're not just talking about the digital parts of this, we're also talking about different activities that people do, like taking tests, inspecting things, etc. We haven't finished the process mapping and we've almost run out of wall.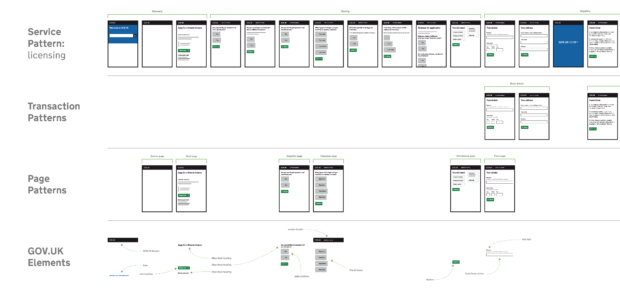 The diagram maps out, from left to right, the stages users go through getting a firearms license. On the vertical axis, there are four layers to the diagram. From the bottom: GOV.UK elements, Page Patterns, Transaction Patterns and Service Patterns.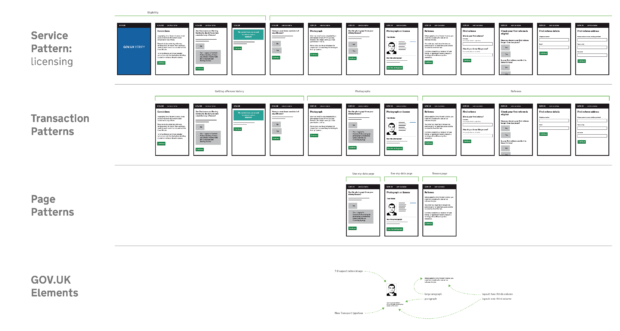 The higher you go, the more complex the processes. And the less we have defined them. We have agreed patterns for the first three layers: we have standards for what a page should look like (page pattern) or how we ask for bank details (transaction pattern). But we've yet to establish a pattern for the steps on the top layer (service pattern).
Which is why we made the drawing.
Consistent, proven standards
The thinking behind service patterns is that government services are made from lots of small processes, like getting permission for something, or telling government about something. Often these processes are repeated across government, but they are rarely done the same way.
By isolating processes within a government service we can improve the way these component parts work. Just like we have design standards for typography or how to ask a user certain things, we can build design patterns for these components. And service patterns can become consistent, proven standards for the way repeated activities should work both for users and government.
Like other design patterns, these patterns can be isolated, tested and iterated. They remove duplication of effort and improve interoperability between services.
The firearms license is of particular interest. The process is straightforward enough to make mapping it a manageable piece of work, while it has sufficient level of complexity that it may usefully be applied to similar services.
We're not sure yet whether we will be able to make service patterns modular and interoperable between services. Which is why we made the drawing.
Our hunch is that we can. And having mapped out part of the process, we think we know what to do next: it involves working closely with the people delivering services.
We're hoping to speak to people delivering licensing services.
If you'd like to help us, please email harry.trimble@digital.cabinet-office.gov.uk

Follow Harry on Twitter and don't forget to sign up for email alerts.