Anna Byrne is the Digital and Technology Transformation Lead on the Grant funding alpha at Department for Business Innovation & Skills. She talks here about the alpha so far, the user research and the prototype dashboard.
What an experience, stood on the main stage in the BFI Southbank presenting our new grant funding platform at Sprint 16. When I decided to rearrange the audience before I started my presentation, I didn't realise that the person I had summoned from the dark at the back of the auditorium was John Manzoni no less. Awesome.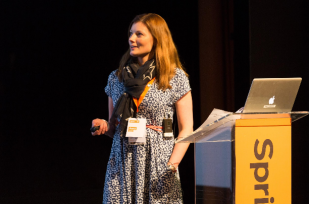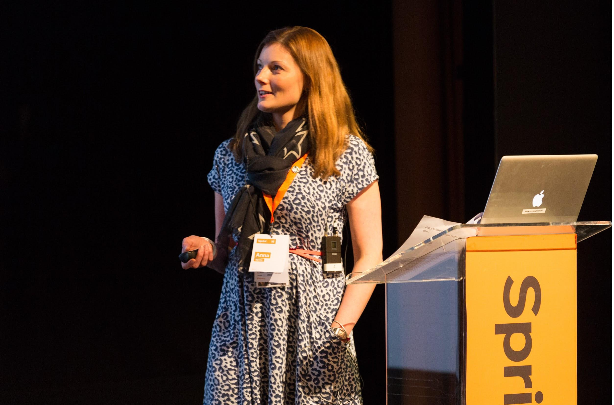 So why was I talking about next generation grants? The Department for Business, Innovation and Skills (BIS), is one of the biggest grant givers in government, awarding grants worth more than £12bn every year. On this basis the BIS Executive Board endorsed a programme of work to transform the way we administer grants. BIS undertook an initial "Pre-Discovery", working with the Government Digital Service (GDS), to better understand the grant funding landscape.
The conclusion was to initially focus on competition grants, which have the most applicability across government. "But what are competition grants?" I hear you shout. They're an amount of money given to an individual or organisation for a project or purpose based on the submission of a specific case to justify that funding.
Working with research councils
Research councils deliver competition grants but there's a considerable number of user pain points and other issues associated with the existing solutions. So we started our new grant funding journey with them. (We're building a series of components and patterns that could be adopted in part or in full by other grant giving bodies across government.)
Like all good digital projects we started with users. Not just external users - in our case academics and researchers - but also the research councils' portfolio managers. We could then understand the pain points with the existing systems and services and ensure that we built something that addresses that pain. I really like these quotes from one of the existing users about their experience of applying:
and it's a tortuous, tortuous process. You have to have an officer... It takes nine months to get an application through...
oh, research funding can take a year. A year! It's a good thing that higher education works at the pace of a snail. Because so do all the funding streams.
We then worked up a vision with the research councils, 'to create digital services that support the entire grant funding process, from idea generation to impact reporting, that enables the best possible funding of research excellence'.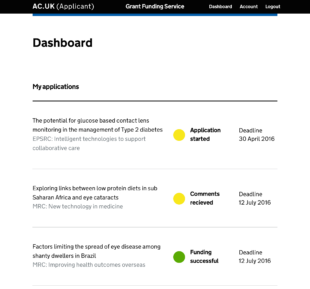 Delivering an alpha
The focus of the alpha has been to deliver a functional prototype for selected steps of the 'match step' application process. By this we mean the point from which the funding competition is created, to the point when the applicants are informed of the outcome of the funding .
We are now at the end of alpha. You can see from the screenshot that we have developed a tracking page (or dashboard) so that academics and researchers can see where they are with their applications. (It's worth noting that is a mock up and the individual project titles are invented.)
The dashboard was developed to address a specific user pain point, ie users want see exactly where they are in the process. 
Transferring digital skills
We have come a long way in the last 9 months; it has been a great team effort. I am really proud of what we have achieved in the delivery of the prototype and what we have learnt on the way.
I have also made it a priority to ensure that we develop our civil servants and public sector workers (research council colleagues) in digital roles. We use contractors where we don't have the in house expertise, but we are committed to ensuring that we also "growing our own." I used to get really disheartened as a management consultant (before I joined the civil service), when the organisations I worked with didn't put staff forward for skills transfer.
A special well done and thank you goes to Gerald Owenson, our product owner, who is a grants expert from the Biotechnology and Biological Science Research Council (BBSRC). He's new to this role but has taken to it like a duck to water. He has a clear focus on developing the right product to meet user needs and ensuring the research currently delivered by the UK is world leading.
We'll keep you updated on our progress but in the meantime, if you'd like to know more about the Grants funding alpha leave a comment for Anna below.
And don't forget to sign up for email alerts.