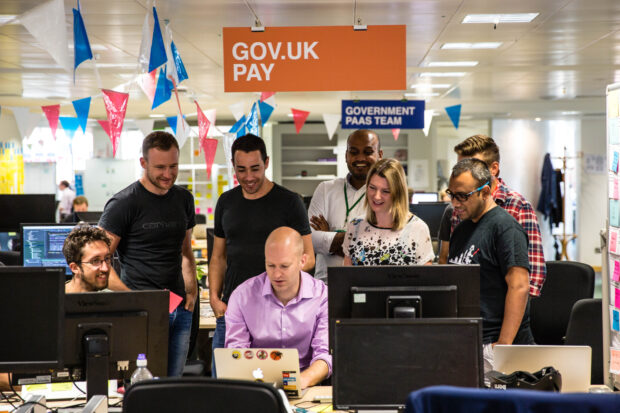 On Friday 2 September we took our very first live payment on GOV.UK Pay. Our Product Manager Till Wirth was confident enough to process a payment using his own debit card. Until now, we've been using dummy cards. This is the first time we've processed a payment using a real card.
Since we received our official accreditation by the Payment Card Industry in July we've been busy making our operational processes more robust. Taking our first real payments (albeit within the team) is a significant milestone for us. It means we're now ready to start putting GOV.UK Pay to work in the real world.
Over the next few months, a number of government services are going to start using it. We'll have real users, moving real money. All of us have been looking forward to this moment from day 1; we're incredibly excited to see it happening.
We've formed fantastic collaborative partnerships with teams in a number of departments. Collaboration works both ways: this week, two developers from another department temporarily joined our team at Aviation House to pair with GOV.UK Pay developers on building their integration. And we're working closely with finance, case management and digital teams from the same department, so we can better understand their user needs.
Together, we're making it easier for citizens to make payments, and more efficient for civil servants to process these payments.
What's next?
Once we've moved the first partner service onto GOV.UK Pay, we'll focus on making it easier for government services to create an account with GOV.UK Pay and manage their staff accounts. We'll also start work on adding other payment methods for users.
If you work in central government and are interested in using GOV.UK Pay in your service, let us know.
Follow Till and Sara on Twitter and don't forget to sign up for email alerts.
GDS is expanding, and we have a number of positions that need to be filled - especially on the Government as a Platform team. So we're always on the lookout for talented people. Have a look at our videos describing how we work, our vacancies page, or drop us a line.