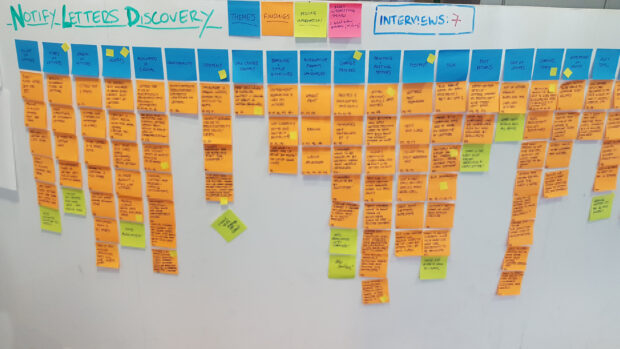 Since sending our first messages in May this year, GOV.UK Notify now has 8 service teams sending texts and emails as part of our private beta.
Building on our earlier research we've been looking again at letters, and we thought it would be interesting to share some of our findings. Much of what we've learned confirms the need for a simpler, faster and cheaper way of sending letters, and we're keen for service teams that need to send letters to join our beta.
Paper jams to slick operations
In our discovery we found that print processes range from complicated case-management systems to local printing within the office. Local printing can include the following steps:
print the letter from a personal computer
queue up at the printer to collect it
cross the office for an envelope to stuff the letter into
visit to the franking machine for a stamp
finally drop it off into the post tray for delivery
Processes like these operate at a cost of nearly £3 per letter. Automated processes significantly reduce those costs to approximately 50p a letter.
Some teams already have comprehensive case management systems that populate letters with content. So those teams only need to consider print and post processes. But other teams need to create and manage templates to generate letters.
Notify aims to meet a wide range of needs for multiple services, so we're looking to offer a cost-efficient process  - as low as 29p per letter, which includes printing, envelope and postage.
It's not only printing
During our research, we were surprised at the range of costs service teams had to meet. Not only did they pay to print, they also paid to make a change to a letter. At an average cost of £12,000 per change, 2 to 3 times a year, changes to letters could total up to £28,000. And because teams often needed to make changes annually, this became a recurring cost.
We also started to understand what was involved in getting content approved and changed. From drafting to implementation, content could easily pass through 4 teams and take up to 18 months. Not only was it complicated but also seriously time consuming and expensive.
Notify is  looking to reduce this cost by making it quick, easy and free to iterate the content.
What does my letter say?
Using complex language, and including jargon in letters is a problem.
One service team reported seeing user research videos of users throwing the letters they receive in the bin because they know they won't understand them. Users would rather ring the call centre and speak to someone than try and make sense of difficult-to-read letters.
This is a common issue.  In one case we looked at, enquiries about letters generated around 40% of all call centre contact from users.
Thankfully, content designers are already on the case and are creating a standardised template and guidance on writing letters that are personal, relevant and effective.
Why are we still printing?
Lastly, we've also  been talking to users about how they can reduce their use of letters in favour of cheaper digital alternatives such as emails or text messages. We know this won't always be possible because there are still some services that legally require 'wet signatures', and others that rely on verifying someone's address by sending them a letter.
If you're already sending letters and keen to reduce your costs, please get in touch.
Follow Fajer and Katie on Twitter and don't forget to sign up for email alerts.
GDS is expanding, and we have a number of positions that need to be filled - especially on the Government as a Platform team. So we're always on the lookout for talented people. Have a look at our videos describing how we work, our vacancies page, or drop us a line.