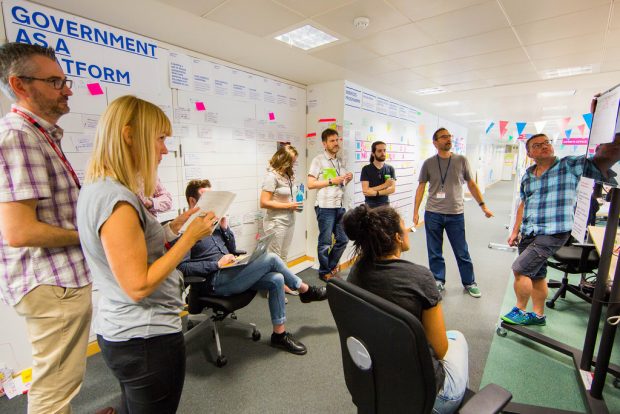 Government as a Platform (GaaP) helps teams build better services more quickly and cheaply.
These teams are our users, and it's our mission to build services so good that people prefer to use them. We're going to expand our team so that we can do this better.
How the Government as a Platform team works
Will Myddelton wrote in more detail about how our users aren't citizens, but other civil servants earlier this year.  And to be effective, we have to consider our users not only as colleagues, but as customers.
We need to think differently about how we engage with teams within government. Our policy needs to be more like that of a business than a traditional government department, and part of that is developing a relationship with service teams that will use GaaP products. And so the GaaP team is looking for someone with a strong background in the business to business (B2B) sales of new digital products to join us as an Policy and engagement lead.
The role
You'll be creating the right environment across government by working with senior civil servants to explain what GaaP offers and to generate interest and support from senior leaders.
You'll be working with peers across other government and agencies to ensure everyone knows what work is being done elsewhere. And you'll make sure the rest of GDS understands what GaaP offers, who we're engaging with and what we do.
Everyone at GDS has a specific target to work towards. As our Policy and engagement lead, you'll be ensuring that we're in the best position possible to help our teams meet these goals.
You'll be making an impact not only within Cabinet Office, but also across government. You'll be instrumental in helping service teams meet their users' needs more quickly, and at lower cost.
Experience in government would be desirable for this role, but it's not essential.
We have to make sure we're operating in the right way alongside the wider technology market, and for that, we need someone with the right skills and experience to help us.
How to apply
If this sounds like you, read our blog. And if you think you'd be a good fit for the job and you're interested in making this role your own, you can find the full job description on civil service jobs.
Applications close on 16 October.
If you have any questions about the recruitment process contact the GDS recruitment team.