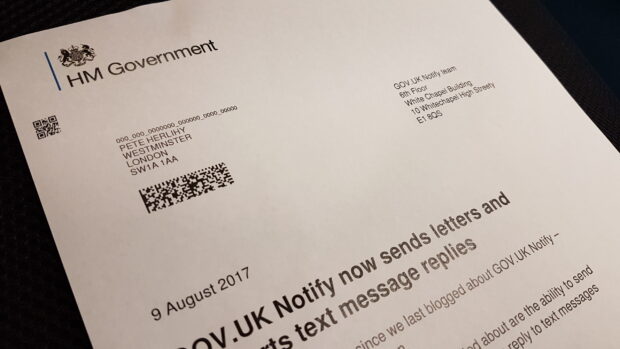 It's been a few months since we last blogged about GOV.UK Notify – and there's been lots going on.
Two of the new things we're most excited about are the ability to send letters through Notify, and allowing people to reply to text messages you've sent.
Notify can now send your letters
You can now send letters through GOV.UK Notify. This works in the same way as email and text messages – you set up a template in Notify, then provide the personalised recipient data (either by uploading a spreadsheet or using the Notify API).
You can preview the letters and, when you're happy, send them and they'll be printed and posted.
The letter formatting is deliberately simple for now. We'll be adding more options as we identify formats that work well.
Later this year we'll have options for printing and posting letters that have been created by your own casework systems.
If you're interested in sending letters through GOV.UK Notify, get in touch.
People can now send texts to your service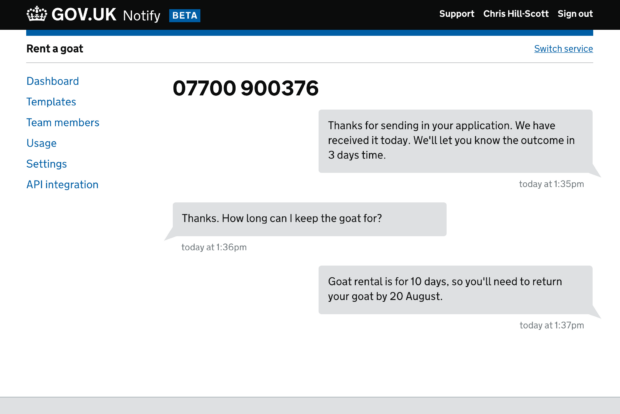 Our user research shows that service teams need to let users reply to text messages they receive. This allows people to do things by text message like:
confirm, cancel or change an appointment
register for a simple service
provide follow-up information for an application
report something
provide feedback
Notify now lets your service do these things. You've then got the option to automate the processing of the messages you receive, or to view them in Notify.
This makes it incredibly quick and easy for people to interact with government, without having to visit a website or make an inconvenient and expensive phone call.
If your service is interested in receiving text messages through GOV.UK Notify, get in touch.
Follow Pete on Twitter and subscribe to this blog for regular updates.