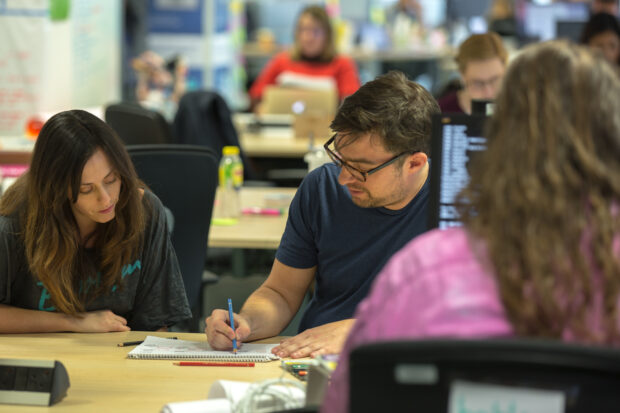 Government as a Platform (GaaP) helps service teams build and run better digital services. One of the ways we do this is by providing components that address common tasks in cases where there are no appropriate solutions available. This stops teams having to repeatedly solve the same problem and frees them up to focus on delivering better services.
Late last year, around the time our components, such as GOV.UK Notify, GOV.UK Pay and GOV.UK PaaS, first started being used across government, we did a discovery to work out what the next GaaP components should be.
As a result of our findings from this discovery, we're now looking into how services, particularly those without access to a software development team, can more easily collect information from their users.
What we did
We interviewed 150 randomly-selected service teams across government. We asked about their service, their users, their team and how these things worked together.
We wanted to understand the different types of service team across government and the most common tasks across these teams.
It's hard to create digital services without a dedicated software development team
Thirty-seven per cent of the service teams we spoke to have direct access to a software development team. Although they comprised just over a third of government services in our sample, they actually represent two-thirds of the transaction volumes. So, it's important they have software development capability.
However, the remaining services, which account for around a third of the transaction volumes, don't have access to their own dedicated software development team. Typically these services are:
those with low transaction volumes who find it hard to justify the cost of a software development team
those with high transaction volumes but who haven't yet been prioritised for digital transformation
These teams find it hard to create effective digital services. Specifically, they find it hard to meet the Digital Service Standard. As a result, they often have to rely on paper-based processes. This is where the most difficult user experiences lie. It's where the highest costs per transaction are found. These are the things that GDS was created to address.
GaaP components can't be aimed only at the largest services. We need to help those services without access to software teams create modern digital services too.
Making it easy to collect information from users is the next challenge
The most common tasks service teams do with their users are:
publishing information (90%)
sending notifications (85%)
collecting information (80%)
having a two-way conversation (65%)
collecting files/evidence (45%)
confirming a user's identity (30%)
taking payments (30%)
We're currently helping services with many of these. GOV.UK publishes information. GOV.UK Notify sends notifications. GOV.UK Pay takes payments. GOV.UK Verify confirms a user's identity.
It's obvious our next challenge should be making it easier for service teams to collect information from their users.
So what's next?
We're planning a new discovery around collecting information from users. We'll focus on services without access to a software development team.
We'll use this discovery to decide if there's an opportunity for a new component to address this common task.
If you work in a service team and this sounds interesting, we'd love to hear from you. Thank you to the hundreds of people across government who helped us with this research.
Subscribe to this blog to hear the latest from the Government as a Platform teams.
Follow Will Myddelton and Ciara Green on Twitter.