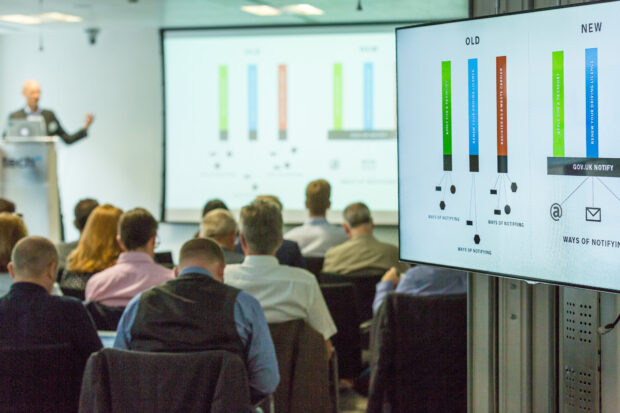 GDS is focused on increasingly supporting departments and agencies. One of the services we offer government is a set of well-researched components that meet common needs. These Government as a Platform (GaaP) components, tools, and guidance (all set out here in the service toolkit), make it faster to assemble and cheaper to run services at pace and at scale.
Building and strengthening our common components and shared platforms is at the heart of what we do.
Over the last few months we've seen the number of government services adopting GaaP components almost double, increasing from to 44 to 87.
We're already seeing the impact our components are having in helping transform government services. Her Majesty's Passport Office are sending millions of messages to users updating them on passport renewals and we recently blogged about how the Environment Agency is using Notify to issue up to 40,000 fishing licences a day.
At the same time, with GOV.UK Notify and the Digital Marketplace moving to the GOV.UK Platform as a Service (PaaS), the GaaP ecosystem is making things easier for us here at GDS too.
And we held an open invitation market briefing at TechUK to explain how Government as a Platform fits in - and the new commercial opportunities that are likely to arise as a result.
Here's more detail about our work since we last blogged in March.
GOV.UK Pay
Since our last update, the GOV.UK Pay team have:
GOV.UK Notify
The GOV.UK Notify team have:
GOV.UK Platform as a Service (PaaS)
The PaaS team have:
Registers
The Registers team have:
GOV.UK Verify
The GOV.UK Verify team have:
And, finally
For a full breakdown of what our products do, who they're being used by, and how they'll help service teams, you can visit the service toolkit for more information.
We work in an agile, iterative way, in which feedback plays an important part in the development of our products. These posts are designed to update you on our progress, but we're open to feedback. If you have any comments for the team on any of our products, or on how best to provide these updates, post a comment below or contact us directly.
Follow Peter on Twitter and don't forget to sign up for email alerts from this blog.