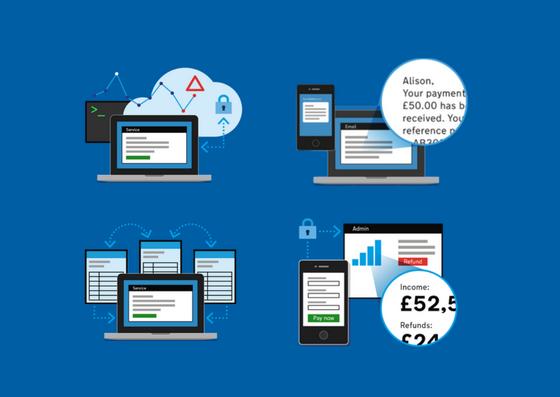 We recently celebrated 200 adopters of Government as a Platform (GaaP) products during our #GovPlatforms week. We looked at how GaaP has matured operationally and how adoption has increased significantly across central and local government, and the health sector. GaaP products are now the default choice for for many departments at the centre of government.
The products are being used more widely than ever, by a diverse range of service teams. And we're excited to say there are many more in our pipeline.
We've continued to iterate and improve our platforms based on our user's feedback and research. This means the people designing and running services can spend more time focusing on what's unique to their service.
Below is more detail about the work we've been doing behind the scenes, some of which will be showcased at Sprint 18 by teams across government.
GOV.UK Pay
The GOV.UK Pay team:
are partnering with four local authorities keen to start using GOV.UK Pay

have introduced

Self Service Payments

- a new payment option, through which service teams can create payment links to take payments online without having to do any technical work.

released the functionality to see refunded payments and iterated the status of payments in the admin tool

are making 3D Secure available to all services using Pay

are working towards adding Direct Debit as a new payment type
Get in touch if you want to join our pilot, try GOV.UK Pay or find out more.
Registers
The Registers team:
have completed the first iteration of the Register Management Tool, which is being used internally to create and update registers

increased the number of

registers available for public use

to 34 with a further 35 in the pipeline

started work on a

Ruby client library

, making it easier to build services using registers

changed the way registers are presented to users to make the data easier to understand and make it easier for teams to integrate registers into their service
Find out more about registers.
GOV.UK Platform as a Service (PaaS)
The PaaS team have:
introduced Redis as a backing service for new and existing production services

made Elasticsearch and MongoDB available for existing teams that need it

built an admin tool to allow users to manage basic admin asks themselves and see which apps are running in their service team's accounts

completed a Proof of Concept into creating a UK version of GOV.UK PaaS using UK-based data centres

started work on making Elasticsearch available for all teams wanting to use GOV.UK PaaS

started work on making database and platform quota metrics available for users  
Get in touch to find out more about the PaaS
GOV.UK Notify
The GOV.UK Notify team:
have been working with local authorities following the announcement that we were

opening up GOV.UK Notify to local government

currently have 30 live services from 20 different councils, and another  72 in the pipeline

now have 3 NHS teams sending notifications to their users

are generating letters in pdf format

have begun work on new functionality to let services send letters through Notify that were generated by their own systems
Get in touch or sign up and try GOV.UK Notify.
Get in touch
You can find out more about about our products and sign up for trial accounts.
Sprint 18 will be taking place in May. If you want to hear how Government as a Platform could help your service, our team - and others that use our products from across government - will be at Sprint 18 to answer your questions.
You can follow Ash on Twitter, and subscribe to this blog to hear the latest from the Government as a Platform team.