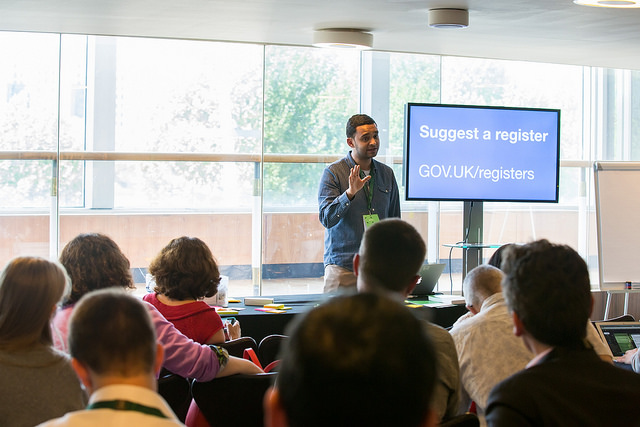 Since our last update, the adoption of GaaP products has accelerated. We are now supporting more than 400 services from 120 organisations across the public sector.
GOV.UK Registers has created registers with more than a dozen departments, GOV.UK Notify has sent more than 150 million messages, and the number of services now using GOV.UK Pay has grown by almost a quarter.
There's more detail below on how we've been iterating and improving our products that have led to these achievements.
GOV.UK Registers
The GOV.UK Registers team:
now has a total of 44 available registers - these have been created with 13 departments and used by 7 services
has 10 new registers including Open Standards and DDaT Framework
has redesigned the Registers frontend to make it clearer to users what registers are, what is available and how to use them
has modified the user journey to make it easier to download registers or use them via the API
added a user feedback feature to all registers
GOV.UK Notify
The GOV.UK Notify team:
now has 346 live services from more than 100 different organisations in local and central government, the NHS and emergency services
saw its first GP surgery start using Notify, alongside the first few hospitals sending appointment reminders
is now sending messages for more than 40 local authorities across the UK
added a feature to allow service teams to securely send documents to their users
worked closely with the 'Check your state pension' service in Department of Work and Pensions (DWP), to send the first letters through Notify that were generated by backend systems
GOV.UK Pay
The GOV.UK Pay team has:
seen the total number of services using GOV.UK Pay rise from 31 to 38
taken more than 1.7 million payments totalling more than £73 million
iterated the payment user journey and reduced the dropout rate by more than 50%
added a feature, which enables service teams to collect reference numbers when they set up payment links - watch the video below to find out more
GOV.UK PaaS
The GOV.UK PaaS team has:
26 services running on the PaaS
completed a London-based instance of PaaS for tenants which require their service to be hosted in the UK
released a pricing calculator into alpha, allowing potential users see how much it would cost to use GOV.UK PaaS
created an accessible admin tool that improves how service teams manage their users and understand their current costs
Get in touch
Find out more about our products and sign up for trial accounts.
You can follow Ash on Twitter and subscribe to this blog to hear the latest from the Government as a Platform team.